To many people, the Batha Market in Riyadh is just another large market where they can find lots of Asian stores.
But for Filipino workers and ex-pats in Saudi Arabia, it represents a home away from home. The market is full of Filipino workers, Filipino stores, restaurants where people can try Pinoy food, and stores for genuine spices and ingredients. The area around the market is a popular place for living for ex-pats and Filipino workers.
There are likewise concentrated villas and flats in the Northern area, and the place is convenient for living since even though the rents are expensive, OFWs share the cost. At present, thousands of Filipinos work in areas near Batha, and they can get there easily by public transport.
What to expect in Batha market
When visiting Batha Market in Riyadh, it is important to be aware of the following things:
Culture and customs: Taking a cue from Batha Market's location it's important to be respectful of the local culture and customs, such as dress codes (modest clothing is recommended) and greetings.
Language barrier: Arabic is the most widely spoken language in Saudi Arabia, so being able to speak the language or having a translation app may be helpful.
Bartering: Batha Market is known for its street vendors and bargaining is expected, so be prepared to negotiate prices.
Safety: As with any crowded market, it's important to keep an eye on your belongings and be aware of pickpocketing.
Shopping: Batha Market is known for its variety of goods, including traditional souvenirs, textiles, spices, and perfumes.
Batha market location
Batha Market is a market (some call it bazaar) for all from India, Sri Lanka, Nepal, the Philippines, and other countries in Asia. The market is a sprawling collection of shops and markets. Once inside, it is very easy to get lost because of the sizeable area. The place is very crowded to boot, and visitors are recommended to watch for their items, as there are muggers. Batha is a large bazaar, and visiting it requires several hours.
Batha Market in Riyadh is located in the center of the city (map). This part is also known as the old city and it is easily accessible from different areas.
How to get to Batha market
The best way to get to Batha Market is from the Kingdom center. From there, visitors need to go south on Olaya street and past the Interior Ministry. From there, the next point is down King Faisal Street and pass Abdul Aziz center in Murabba Park. Once at the next traffic light, turn left. Everything that lies ahead is the Batha market.
What to buy at Batha market
In Batha, there are several sets of stores where people can find everything, from food, fabrics, electronics, gold, and spices to barbershops. Shopping areas are divided into two categories: open-air blocks and closed buildings. Different areas in Batha sell different things; for example, there is a tailor's block, where more than 20 tailors make custom shirts. At the tailors' block, visitors can also find tons of fabrics and uniforms for their job (depending on the service industry).
On the other hand, the food section is crowded with stores for vegetables, fruits, spices, and supermarkets. Visitors can find food from almost any Asian country. The fish market is suited in the food section, and it can be smelt from a mile away. Meanwhile, the electronics section in Batha is full of computers, DVD players, TV, and other goods. Barbershops are also conveniently placed in the area with electronics.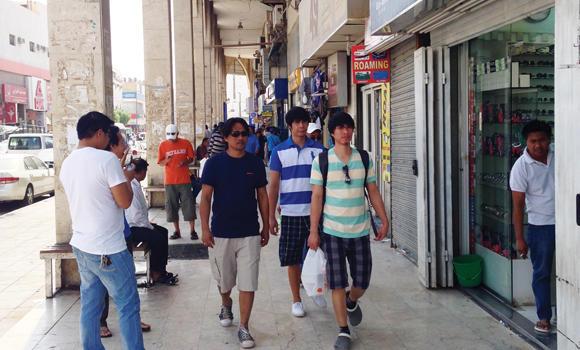 It is also where you can find Saudi gold as jewelry, investment, or for both purposes. This market is composed of three souks: Dirah Gold Market, Hilla Gold Market, and Gold Souk. There are hundreds of shops selling gold at Batha Gold Market.
You can find most Filipino items, Filipino food, and novelty items there. You can explore the "ukay ukay" shops, and if you wish to get good deals, explore deep into the maze of shops and don't get tempted to buy at the first shop you stop by.
After a day's worth of exploration, you'll be able to find great choices of Filipino food or head to Jollibee or Chowking for that unmistakable taste that reminds you of home.
Safety tips when you are in Batha Market
Keep an eye on your belongings: Pickpocketing and theft can occur in crowded marketplaces, so keep your valuables secure and be aware of your surroundings.
Stay in well-lit areas: Avoid dark and deserted alleys, and stay in well-lit areas where there are more people around.
Be aware of the local culture: Some cultural practices and customs may be unfamiliar to visitors, so it is important to be respectful and aware of local norms to avoid any misunderstandings.
Follow local customs: Dress modestly in accordance with local customs, especially when visiting mosques or other religious sites.
Travel in groups: Traveling in groups, especially at night, can be safer than traveling alone.
Use official taxi services: Avoid using unregistered taxi services, and instead use official taxi services or ridesharing apps to ensure your safety.
Keep contact information with you: Keep a copy of your passport, important contact information, and emergency numbers with you at all times.