Overseas Filipino workers who toiled hard for years often encounter challenges in their daily lives — sorely missing their families, suffering various illnesses, facing abuse from employers, and losing their jobs. To many Filipinos based in Saudi Arabia, that last challenge has been especially painful as some of them were not paid their wages in full after being let go.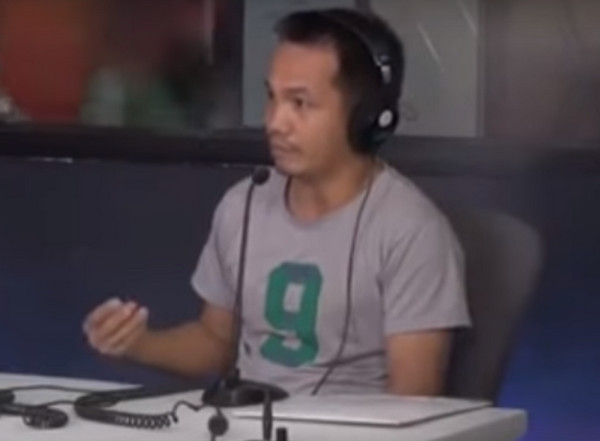 Thankfully, some of those who lost their jobs managed to go back to the Philippines. With the Saudi government's assistance, cooperation from the Philippine government, and other kind-hearted expats, OFWs arrive in their hometowns, not entirely empty-handed.
However, their ordeal is far from over as they return home to their families with bleak prospects for the future. Many of them are considered overage in the Philippines, where the labor market often considers those above 30 years old as an undesirable addition to a company payroll.
One of the ex-OFWs who shared a similar fate is Nonilo Naingue.
Nonilo, who claimed he used to send three times a month to her family in the Philippines from his regular job and tattoo side jobs in Jeddah. But now that he's back home with no money on hand, he has been thrown out of the house by his wife Jonalyn and mother-in-law.
In a tearful recollection, Nonilo responds to broadcaster Raffy Tulfo in a radio interview. He feels he was being thrown out of the house as he no longer has a job and disowned by his own family. The radio program arranged a phone conversation with Jonalyn so the couple could talk. Jonalyn expressed dismay that Nonilo could not support her financially, especially when their child got sick, so she expelled him out of the house. Nonilo had to fend for himself, seeking shelter on the streets.
Nonilo admitted he does not have money anymore as he already gave all of his OFW savings to his wife, totaling to P80,000. When Tulfo asked Jonalyn about the money, she confessed she used the money for the christening of their child, and only P20,000 was left.

Returning Overseas Filipino workers assisted by OWWA staff.
Worse, Nonilo could not apply for jobs abroad because Jonalyn destroyed his employment documents. The wife confessed that it was during their quarrel that she had torn all of his papers.
As sad as it can be, the story could be paralleled by other OFW families. Instead of rejoicing over the safe return of their breadwinners, some families find them useless and kick them out of the very house these OFWs financed through their sacrifice abroad.